In this article I will be discussing the role of good Webdesign in making your web pages SEO friendly, reaching & retaining your audience, reducing the bounce-off rate, and building a brand on the web.

A website can serve many purposes. One of the most important ones though is to build and own your brand. And make it a platform for one-stop direct interaction with your audience. Click here to read the article where I explain why your online brand starts with a website
Most people believe that SEO and keyword research is the most important factor for organically ranking at the top of search results. I am not the one to contradict that statement, it's an obvious fact but there's more to it. Google has approximately 200 ranking factors for search indexing that dictate what Blogs and websites are ranked at the top. While we can only make an educated guess, no one really knows what those 200 secret sauces to the gateway of internet success are.
On Page SEO
Most common practices for SEO include researching keywords with good search volumes using tools like Google Keywords Planner and Ubersuggest.com to find popular keywords and adding those to your Blog Titles and sprinkling the keywords throughout your blog.
That's called On-Page SEO While On-Page SEO is helpful in organic search rankings and getting web traffic through good content. It is equally important to retain and make your visitors stay on your website for longer. While Keywords can bring more visitors to your site, good design can make them stay. I'm in the process of building my own website and I made a checklist of all factors that affect SEO and User interaction for you to checkout. (checklist at the end)
Webdesign & SEO
Webdesign and SEO go hand-in-hand. It's not surprising the principles of good web design are equally important to SEO. Good Webdesign helps users to navigate easily and provides them with the information they need more quickly
The following components are an important part of Webdesign as much as SEO
Purpose and Value Proposition
value proposition is a statement that communicates the purpose of your product or what you offer and what problems you solve or how your solutions help solve your client's difficulties. A well thought out value proposition can significantly reduce your bounce off rate which is the amount of time you user stays on your website before leaving.
Research shows the average time spent on a website is about 45 seconds. (svell.com). Having a clear value proposition communicates the purpose of your website and helps convert qualified leads. Attracting the right audience, building the right audience can also help with Google and Facebook Ad targeting by delivering your ads to your website visitors (custom audience), making it easier for leads to convert.
Call to Action
A website without a clear call to action would be incomplete. While doing good SEO will help bring traffic to your website Call to action will help convert victors into leads. Call to action directs users to take action on the information you have provided. An example of CTA would be a "Get in Touch" Button that Directs users to your lead form or E-mail.
CTA is generally present on the hero image of websites and is an effective tool for collecting leads. A distinguished CTA can motivate users to take desired actions. Like giving their name and e-mail Id to sign up
Navigation
Good navigation can help users easily slide through different pockets of your website. The menu is an important part of navigation. Its generally placed at the top horizontal of your website. Good navigation can improve user experience and make visitors stay longer, exploring different pieces of information. Navigation organizes content and helps visitors get to where they want quickly, without hunting for it or clicking too many buttons. Click Here to read more on web navigation
Simplicity
Simplicity is the key to good design, the easier it is to use, navigate and digest information on a website the better the user experience. Simplicity also makes the text legible. Simple to use websites can also be aesthetically pleasing with less need for support or help.Click here to read more on this Webdesign principle
Load Time
Load time is very important to SEO since it has a direct relationship to how many visitors you can actually get to see your website ,Users would not reach your website however good it might be if the loading time is too long.We know how frustrating it can be if a webpage takes too long to open. A study showed that Users do not wait more than 3 seconds before leaving if the website doesn't load on time.This factor directly affects the bounce rate of a page. You can check your website's page loading speed by running a Google page speed test
Good Content-
Consistently publishing good content with the right keyword structure increases the odds of your posts being indexed. Good content will also bring you backlinks in the long run which builds credibility for your website. A backlink is a link to your website present on another website. It's like a shout-out to your content (like this one) . With more content, you need to assemble it into a well-organized content structure, also called sitemaps. Check out this article from Yoast that takes a deep dive into the relationship between content & SEO
Sitemaps
Creating and submitting a sitemap on Google Search console can help to rank your websites better. A sitemap is a structure that shows the relationship between the internal contents and pages of a website, it shows the internal link structure of your website. Sitemap not only makes it easy for users to navigate through web pages smoothly but also helps Google understand your website better. Check out this article from Yoast SEO to better understand the importance of Sitemaps and web structures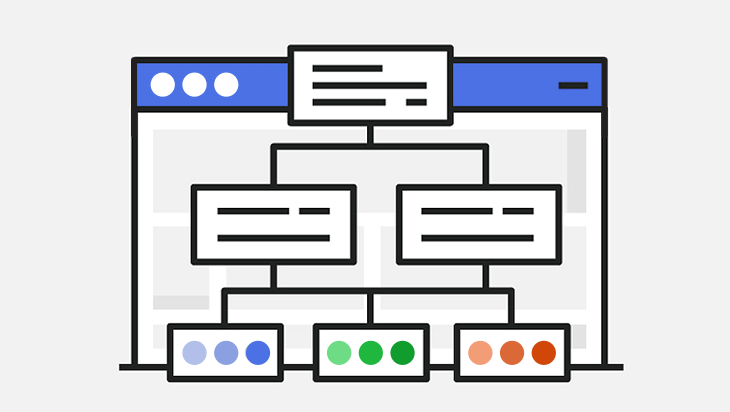 Mobile Friendliness and responsiveness
Mobile accounts for approximately half of the web traffic worldwide. In the first quarter of 2021, mobile devices (excluding tablets) generated 54.8 percent of global website traffic (source: www.stastica.com) . That being said more than half of your visitors are using mobile devices. So it's important to build a responsive website that maintains visual consistency and looks similar across PC's mobiles and tablets. Mobile-friendliness makes sure that your website fits and accommodates different screen sizes.
In my case, I find it very challenging to make a website look as beautiful and aesthetic as it on a pc. The 12 column grid on a desktop screen gives me a lot of space to think about design if that makes sense. On a mobile, however, there is less space to work with and a lot of information is to be presented in an organized way. Most often blocks of text, image, and video files are just stacked on top of each other which may leave little room for creativity.
All the factors listed above directly affect SEO ranking, the user experience of visitors, and traffic to your website along with how long the visitors stay before leaving.Simple to use, clean website that can get users to what they want can also help improve trust.
There are many more factors at play that we are not aware of but it is evident that web design plays a significant role after users land on your website. If not done correctly it can land someone into problems that can be harder to fix like a huge bounce off rate, a website being non-functional, user frustration in navigating, and a website never being indexed. It is important to test a website and gets feedback before launching it. A smooth easy to use responsive website has benefits that go beyond just SEO.
A good Website can –
Bring more traffic through SEO
Ensure great User Experience
Establish Trust
Help improve your Brand
Connect and engage with your audience
Increase Conversions
Get More Leads
Reduce Costs.
In Conclusion, good Webdesign is an important need for not just your website to perform better on organic search but to also ensure a good user experience and get leads.
Check out the checklist below that I made to serve as a guide for my Blog's SEO
Decide on Broad match keywords and the topic for my Blog
Look up search volumes for the keywords on Ubersuggest.com
Select the most appropriate keywords
Add Title Tags and Meta Description to my Yoast SEO plugin
Edit the slug in my URL to match keywords
Add keyword to the Title of my Blog
Sprinkle keywords throughout my Blog
Exchange backlinks (optional)
Post ! with the right hashtags.
Please provide your feedback if you found this article helpful and check out my blog at vsvdesign.studio